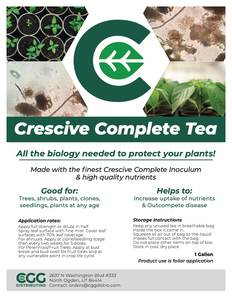 ALL THE BIOLOGY NEEDED TO PROTECT YOUR PLANTS
Brewed in small, hand-crafted batches.  Packaged in breathable bags for stability and viability of product.
Product use is foliar application.
This product is good for trees, shrubs, clones, seedlings and plants of any age.
Crescive Complete Compost Tea helps to increase uptake of nutrients & outcompete disease.
1 Gallon can treat up to 1000 sq ft.